www.3peaks.org.uk
HMS Southampton Page
Tor Bay was in collision with HMS Southampton whilst being escorted through the Straits of Hormuz during the Iran/Iraq war.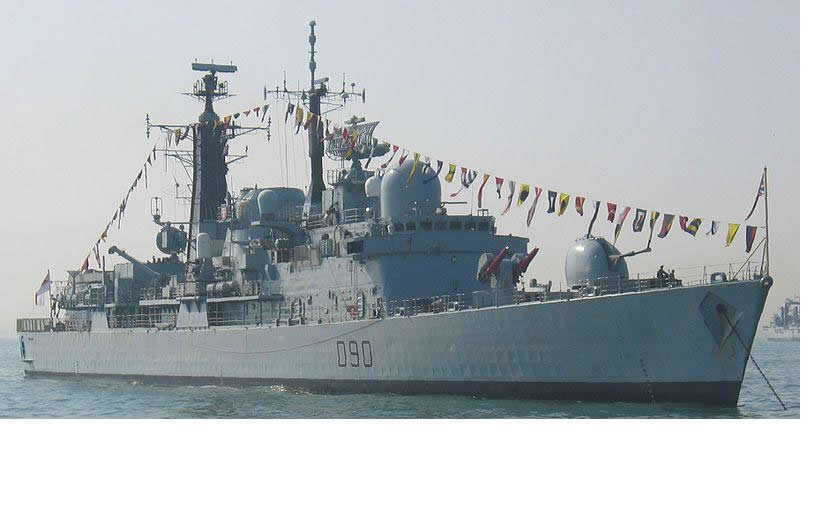 During the Iran/Iraq war, British and allied vessels proceeding through the Straits of Hormuz were escorted in convoy by the Armilla Patrol. The patrol consisted of a type 42 destroyer and HMS Southampton filled this role during this incident.
About this time, for some unfathomable reason, possibly due to a previous Tor Bay incident off Okinawa and the Falmouth bay incident, people started calling me "Mayday" and the rumour was that some superstitious seafarers were refusing to sail on ships if I was the Radio Officer.
On the night of Saturday 3rd of September, 1988. Tor Bay was to rendezvous with HMS Southampton to be escorted through the Straits of Hormuz. Recognition signals were exchanged and Tor Bay was ordered to proceed on a northerly course at the convoy speed of 15kts.
Tor Bay had built up speed to about 13kts when for some inexplicable reason Southampton decided to cut across our bows, she didn't make it and Tor Bay ended up in the wretched situation of steaming at 13kts into indian territory with the convoy escort, bristling with armaments both conventional and 'the other kind' impaled on our bows.
My interpretation from the official enquirey report, is that there could have been a misunderstanding as to which vessel was identified as Tor Bay and the wrong vessel was being plotted on Southampton.
One interesting tale from this adventure. I was asked to relay a message to the Brambleleaf* (R.F.A.), I don't recall the actual wording but the gist of it was:-
"In collision with British Merchant vessel in position wappity wap."
Now I had been at sea for many years and I had never heard of this place wappity wap. I asked for confirmation and sure enough they said 'Yep, wappity wap'. Confirmation in writing was called for and once again the message was "In collision with British Merchant vessel in position wappity wap."
Off went the message to Brambleleaf and sure enough a reply came back "Wappity what?", "Wappity wap" I replied, now we had two radio men stumped, befuddled and properly capped. The text of the message stood and was duly acknowledged. I was troubled for years and spent many a sleepless night trying to decipher "Wappity wap" to no avail. Then on one serendipitous occasion I got talking to a visitor in the local pub who was in the RN at that time and, as luck would have it, he had been flown out to Sharja to evaluate the damage to HMS Southampton. He described some of the structural redesigning we had inflicted on this poor vessel. It turned out that the communications and power supply cables were all channeled along the port passageway and had been sliced through during the collision which also crumpled the wheelhouse. It slowly dawned, no communications, no power and no charts, not "In position Wappity wap" but, as we were joined at the hip so to speak, they weren't going anywhere we weren't "In position 'What have you got?'", How easily I sleep these days.
*Have since recalled it may have been "Olna".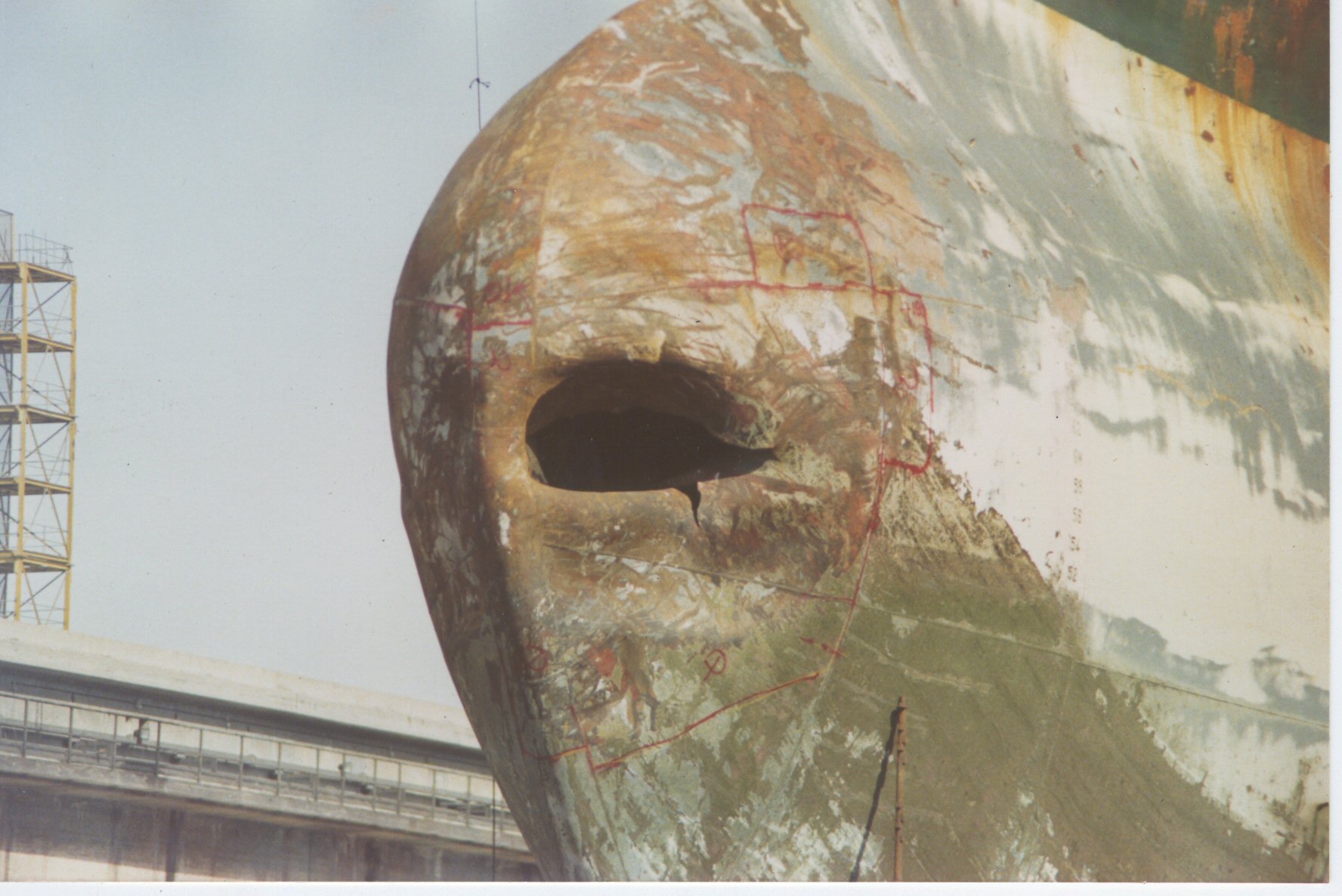 This hole could have been made by a ruptured compressed air tank, maybe something from the Sea Dart missile system.
The Gulf News reported the accident.
And the Daily Telegraph.
Yep, that's the wheelhouse, under the Union Flag.
Some clearer photographs sent to me. I do not know the original source, so appologies if I break copyright.